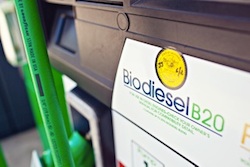 As diesel vehicles become more popular in the U.S., especially in states such as California, Propel Fuels has been offering biodiesel blends to fuel drivers' commutes. Today, Propel began selling B20 (20 percent biodiesel, 80 percent low-sulfur diesel) at three of its stations located in the Bay Area (San Francisco). The company plans to add B20 blends to several stations in Berkeley and San Jose next.
"As high fuel prices force drivers to think about what they put in their tanks, we are proud to offer a higher blend of biodiesel that provides premium performance and guaranteed quality at no additional cost," said Matt Horton, CEO of Propel. "We've seen an elevated interest in higher-blend biodiesel offerings from Bay Area drivers, in particular. By providing this new choice at the pump, we are enabling these drivers to make even greater progress towards reducing carbon emissions and our nation's dependence on imported oil."
Propel sells biodiesel that is sourced from used vegetable oils. Biodiesel has been scientifically proven to improve engine performance and efficiency while at the same time lowering tailpipe emissions. Biodiesel is approved for use in current diesel vehicles and more and more are auto manufacturers are producing vehicles that can run on B20 blends including all 2011 GM and Ford diesel vehicles and Cummins engines.
Propel began selling B20 in Washington State in 2007 and also offers other renewable fuel options as many of its stations including E85.