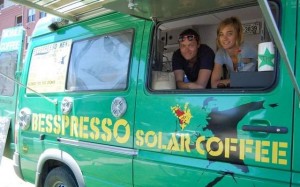 Raise your mug if you love coffee. For you coffee lovers in Iowa, you can now get your fix from Dave Bess and Anna Erickson's mobile coffee shop that is fueled by biodiesel. The Iowa City couple has been traveling around the country to public events this summer including the world famous Great Bicycle Ride Across Iowa (RAGBRAI) sponsored by the Des Moines Register.
The idea for the business emerged last summer while Bess and Erickson were riding from the Missouri River to the mighty Mississippi when they realized that there was no coffee stand to be found. Soon after, Besspresso was born. But the couple didn't want to just sell great coffee- they also wanted to do this in an environmentally friendly way.
As a result, their green Mercedes-Benz van is powered by soy-based biodiesel and the coffee-making equipment runs on solar power generated from panels mounted on the roof. In case you didn't know, Iowa is the largest biodiesel producing state in the country.
Since launching Besspresso, Bess and Erickson have traveled to the Bonnaroo music festival in Tennessee, a white-water rafting festival along the Arkansas River in the Rocky Mountains and a Bicycle Tour of Colorado. When they're not traveling, Besspresso's home base is 312 E. Market Street in Iowa City.