The U.S. Auto Club (USAC) made a surprise announcement at the Lucas Oil Raceway last week when they announced they are switching to "Ignite High Performance Ethanol," an ethanol racing blend distributed by National Biofuels Distribution (NBD). USAC President & CEO Kevin Miller said during his presentation that his organization is "excited to take this direction toward environmentally-friendly fuel usage."
"Ignite High Performance Ethanol has proven during tests to have a 40 percent reduction in consumption, which translates to savings for our participants, while not compromising performance," continued Miller. "It's great to have an alternative which not only serves the environment but also the budgets of our competitors and offers a safer racing atmosphere."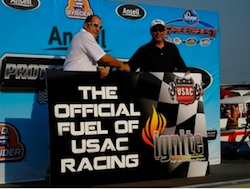 Several years ago NBD began offering ethanol racing blends in response to increased demand for the fuel. It's been used on IndyCar Series' tracks, American Le Mans Series' courses, drag strips and more and as it demonstrated success word spread and popularity grew. In 2010, Ignite High Performance Ethanol became the title sponsor of the ARCA West Champion Stock Car Series with distribution in 42 states.
"We're very excited to be partnering with USAC on this fuel produced by Indiana farmers," said Jay Berry, NBD co-founder and vice president.  "I'm confident that their drivers will like the added power, increased mileage and safety. And we're looking forward to showing the performance side of ethanol as a high-performance fuel, rather than just as an additive."
The ethanol racing fuel is available in three blends – E98 and 108 and 114 octane.
Berry added, "Surprisingly, many people either still don't know much about ethanol or have misconceptions about it. With USAC tracks spread all over the country, this will really give us a 'grassroots' opportunity to educate people what ethanol can do from a purely performance standpoint, which is a story that really needs to be told."