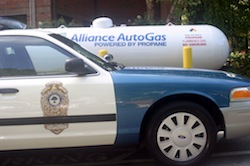 The Raleigh, North Carolina police department held a press conference yesterday to announce the successful conversion of 10 police vehicles to be fueled with propane autogas. The conversion took place with the help of Alliance AutoGas. The company outfitted the police department's Ford Crown Victoria cruisers with dual fuel systems and also installed an on-site autogas fueling station at the Raleigh District stationhouse to give officers easy access to the fuel.
On hand for the event were Steven Whaley of Blossman Gas (an Alliance AutoGas co-founding partner) and he said the conversions are expected to save between 30,000-36,000 gallons of gasoline per year while also saving an estimated $30,000 in fuel costs. The police department will also experience reduced maintenance costs and vehicle downtime due to, said Whaley, the high octane rating of the autogas.
Also on hand for the event were Raleigh Police Chief Harry Dolan, representatives from the Triangle Clean Cities Coalition and the City of Raleigh's Office of Sustainability. The North Carolina State Solar Center hosted the event.