Want to move the angle of your solar panels? Got an app for that. At the touch of an iPhone, 382 solar trackers were brought into position perpendicular with the sun marking the completion of the largest solar installation in Vermont and according to AllEarth Renewables, the largest solar installation of its kind in North America.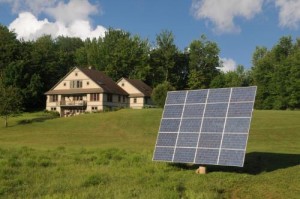 The 382 AllSun Trackers use GPS and wireless technology to follow the sun's path throughout the day producing more than 40 percent more energy than fixed solar according to AllEarth Renewables. The company manufactured the technology just four miles from the site of the 2.2 megawatt solar farm.
"This project not only produces renewable energy from the sun, it creates a lot of local clean energy jobs," said David Blittersdorf, CEO and founder of AllEarth Renewables. "We've innovated and refined our AllSun Tracker so it can be affordably used to power homes or businesses, and at the same time make up a utility-sized farm like this project in South Burlington."
The solar farm will sell an estimated 2.91 million kWh of power each year to Vermont's Sustainably Priced Energy Development (SPEED) program. This is part of the state's Standard Offer program that was established as part of the Vermont Energy Act of 2009. Attending the ribbon cutting event was Vermont Governor Peter Shumlin, Lt. Governor Phil Scott and Speaker of the House Shap Smith. They joined nearly 75 others on hand to commemorate the solar farm.