The Big Green Bus rolled into Dallas last week and subliminally, the people in its wake couldn't help but think about french fries. Okay, so I'm exaggerating a bit but 13 students from Darmouth College converted a Greyhound bus that runs on biodiesel and vegetable oil derived from used cooking grease.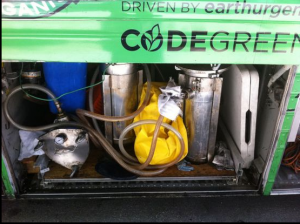 According to an article in the Dallas Morning News, the students have discovered that although the cooking oil must be filtered four times to get rid of any water before it's used as a fuel, running on the oil is 90 to 95 percent as efficient as biodiesel.
"We really don't notice a difference," said David Garczynski, who will be a senior at Dartmouth in the fall. Coincidentally, Dartmouth is the home of Next Generation Scientists for Biodiesel co-founder, Lucas Ellis.
The students are spending their summer traveling across the U.S. to spread the word about sustainability. Not only does the bus run on renewable biofuels, but it is equipped with solar panels to power the equipment inside.
During his interview, Garczynski called living on the bus with 12 others "a lesson in social dynamics" but that he couldn't resist the opportunity to travel the country and spread the word about something he is passionate about.
The theme of the trip for consumers is that "every little thing is valid."
You can follow the Big Green Bus Tour here.