Former South Dakota Representative Stephanie Herseth Sandlin will be a keynote speaker at the upcoming American Coalition for Ethanol (ACE) conference being held in Des Moines Iowa August 22-24 in the Marriott Hotel. Her speech, "Our Sons' and Daughters' Ethanol Industry: Adjusting to New Realities and Enlisting More Allies," will be given at 12:15 pm CST on August 23rd.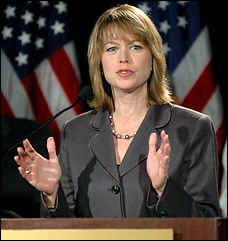 "The former South Dakota Congresswoman is a perfect fit to speak at our conference," said Brian Jennings, Executive Vice President of ACE. "From her service in Congress as a champion for biofuels to her experiences on her South Dakota family farm, Stephanie has a good perspective and advice on how our industry can build new and winning coalitions to ensure American biofuels are the consumer fuel of choice.
Herseth Sandlin served in Congress from 2004-2011. She currently works for the OFW law firm based in Washington, D.C. In addition to her presentation, other conference topics include exporting ethanol, the implementation of E15 fuels, how to make blender pumps a reality, the health and clean air benefits of using biofuels, and more. The full agenda and online registration is available here.
"I am excited for the opportunity to address the ACE Conference," said Herseth Sandlin. "I view this as a great way to share experiences and ideas related to what the industry needs to do in Washington and across the country to develop new and supportive relationships. Strengthening the coalition of support for all biofuels is essential to maintaining public policy progress and capitalizing on new opportunities, especially in a world of budget pressures and challenges to economic growth."
"I hope to continue working with ethanol advocates in a way that can help move this industry forward and sustain it for the next generation of investors, stakeholders and advocates," concluded Herseth Sandlin.