School bus transportation is heading for a new future of fuel choices with the unveiling the Blue Bird Next Generation Propane-Powered Vision school bus that is fueled by propane autogas. The Blue Bird's grand entrance occurred during the School Transportation News (STN) Expo at the Grand Sierra Resort in Reno, Nevada.
The propane autogas bus is built on a Blue Bird chassis and powered by a Ford 6.8-liter V-10 engine with the ROUSH CleanTech liquid propane autogas fuel system. The bus boasts 362 horsepower, 457 pounds of torque. In addition, ROUSH says the technology will reap saving reductions of 30 to 40 percent on average when compared to diesel.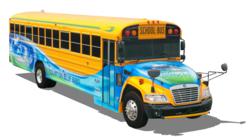 "Blue Bird's Propane-Powered Vision has been the industry leader in alternative fuel offerings since its introduction in 2007. We are committed to providing state-of-the-art, reliable and efficient green solutions that our customers want and value," said Phil Horlock, president and CEO of Blue Bird Corporation. "In partnership with established industry leaders, Ford and ROUSH CleanTech, the introduction of Blue Bird's Next Generation Propane-Powered Vision will reinforce our leadership position by providing increased benefits and value to our customers."
The bus meets all EPA and California Air Resources Board requirements and its success is owed in part to the Propane Education & Research Council who helped to fund the project. This is the second collaboration between ROUSH and Blue Bird. Together they launched a Type A school bus in September 2010.
"ROUSH CleanTech is excited to partner with Blue Bird to roll out this new propane autogas technology," added Todd Mouw, vice president of sales and marketing for ROUSH CleanTech. "Hands down, propane autogas is the right choice for school districts. Propane autogas is safe, economical and the leading alternative fuel in the United States."