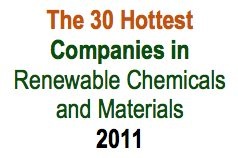 Biofuels Digest's debut of "The 30 Hottest Companies in Renewable Chemicals and Materials" saw the top spot go to Genomatica. This honor, however, is not the first for the company. They also received the EPA Presidential Green Chemistry Challenge Award for its strategy and progress in producing industrial biochemicals. The "biochemical" market is a multi-billion dollar industry and they offer better economics and a smaller ecological footprint than traditional chemicals.
"The momentum in the renewable chemicals and materials space inspired us to run the first 'hottest' companies competition in Biofuels Digest history," said Biofuels Digest founder and editor Jim Lane. "The Biofuels Digest community recognized the slew of meaningful technology, production and commercialization milestones Genomatica has achieved over the past year, and the solid leadership they provide for the industry."
So what was it about Genomatica that helped them rise to the top spot? In 2011, they had already reached demonstration-scale production in partnership with Tate & Lyle. In addition, the company has signed a strategic memorandum of understanding for sustainable chemicals in Asia with Mitsubishi Chemical. As if that isn't enough, they have also established a partnership with Gruppo M&G for biomass-to-chemicals in Europe and signed a joint development agreement with Waste Management to convert syngas to high-value chemicals.
"The readers and panelists of Biofuels Digest represent the forefront of our industry, so we are gratified by their recognition," said Genomatica CEO Christophe Schilling. "The hard work, passion and perseverance of every employee and partner got us to this place, so it's nice to take a moment and feel good about what we have accomplished so far this year."