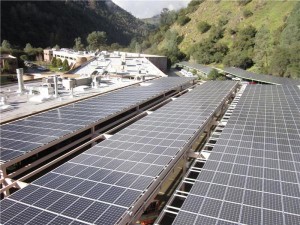 Yosemite National Park's new 700 kW solar system is now in operation. The project was completed by Suntrek Industries and incorporates over 2,800 solar panels that are estimated to produce 800,000 kilowatt hours of energy per year. The company collaborated on the project with the National Park Service, Taylor Teter and PIA and today all were on hand to celebrate the "flip of the switch" to solar power.
Suntrek project manager Alex Smith said, "Yosemite is the jewel of our National Park system and Suntrek Industries, Inc. could not be prouder of the fact that efforts of the NPS and the solar energy teams to design and build this project went without a hitch. We designed the systems so that we could produce clean solar energy from roof tops, car ports, construction yard walls, and the façade of the building itself. This was an architecturally diverse project for everyone to admire and all the components are made in the USA."
The majority of the solar energy produced will be used to power the maintenance facility. The building walls faced South and are also at an angle making them ideal for solar panels. However, with limited space available the solar power team needed to be creative when designing the system.
Yosemite National Park Superintendent Don Neubacher added, "This energy-saving photovoltaic project reflects Yosemite National Park's commitment to sustainable and renewable energy sources."