The renewable energy and agricultural industry today sent a letter to all Members of the House of Representatives urging them to vote no against amendments that would harm the growth of the ethanol industry. The coalition says moves such as prohibiting the Environmental Protection Agency from implementing the E15 waiver would "weaken efforts to reduce our nation's dependence on foreign oil and cost U.S. jobs."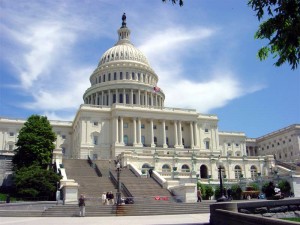 The letter was signed by the American Coalition for Ethanol, Advanced Ethanol Council, Growth Energy, National Corn Growers Association, National Farmers Union, National Sorghum Producers, and the Renewable Fuels Association. The letter addresses a number of "anti-ethanol" amendments including one proposed by Reps. John Sullivan (R-OK), Gary Peters (D-MI), and Michael Burgess (R-TX) that would block the legal implementation of E15. The fuel blend of 15 percent ethanol and 75 percent gasoline (E15) is the most tested fuel ever.
Ironically, calls to cut biofuel support come at a time of high debt crisis for the country. Needless to say, the same legislators who oppose biofuels are those who continue to support status quo tax credits and subsidies given to industries like oil, natural gas and coal. And one way to bring revenue to the federal government, an idea Republicans vehemently oppose, would be to close tax loop holes, some of which are helping the these same industries. Yet the biofuels industry is in a position to not only help save consumers money at the pump, but also to infuse money back into local, regional, state, and federal budgets.
As our elected officials continue to bicker on the Hill over the budget, now is a good time to urge them to make some sound policy decisions such as keeping continued support for biofuels a federal priority.
The full text of the letter is below:
We write today in strong opposition to FY 2012 Interior, Environment, and Related Agencies Appropriations Bill amendment no. 6 offered by Rep. John Sullivan (R-Okla.) and Rep. Gary Peters (D-Mich.) and amendments no. 9 and 10 offered by Rep. Michael Burgess (R-Texas) that would prevent the U.S. Environmental Protection Agency (EPA) from implementing the approved use of 15 percent ethanol blended fuel (E15).
Preventing the EPA from implementing the use of E15 for cars, pickups and SUVs made in model year 2001 and newer, further contributes to our nation's reliance on petroleum sourced fuels. Extensive testing has been done on E15 and it has been found to be a safe and effective fuel for use in the vehicles approved in the waiver. There has been no evidence to the contrary that would indicate problems in any vehicle regardless of vintage. In fact, the EPA's approval of E15 was based on more exhaustive study and data collection than any of the 11 previously-approved fuel waiver petitions. No other fuel mix has been tested more. Consumers are not required to use E15 – it is a market choice.
Further, these amendments would inhibit new innovation to provide alternatives to foreign oil. We are looking toward cutting-edge innovation to move to new ethanol feedstocks, like plant wastes, wood chips, and switchgrass. The Sullivan/Peters and Burgess amendments would solidify the status quo – a 90 percent mandate of our fuel supply from oil and would prevent American-made ethanol – a more affordable vehicle fuel than regular gasoline – from getting to consumers.
The Sullivan/Peters and Burgess amendments halt efforts by the United States to broaden and diversify our sources of motor fuels.
At a time when prices at the pump are again approaching $4/gallon, in the interest of American consumers, American energy independence, and our national security, we urge you to vote NO on Sullivan/Peters amendment no. 6 and Burgess amendments no. 9 and 10.