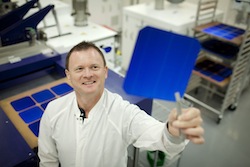 DuPont has expanded it's solar market portfolio with the acquisition of Innovalight, Inc., a company that develops silicon inks and process technologies that increase the efficiency of crystalline silicon solar cells. According to DuPont, Innovalight will broaden and more integrate its efforts in the photovoltaic market.
In 2010, DuPont exceeded revenues of $1 billion from sales into the photovoltaic market and has set a goal of surpassing $2 billion by the end of 2014 based on continued growth supported by new innovations and improved technologies.
"Innovalight has very exciting technology that improves cell efficiency and DuPont can help expedite its adoption," said David B. Miller, president – DuPont Electronics & Communications. "DuPont and Innovalight share a commitment to innovation in materials that have a common purpose – to make solar energy more efficient and more affordable."
The company is based in Sunnyvale, Calif and was founded by Conrad Burke. They have developed several silicon ink products that use DuPont's Solamet photovoltaic metallization pastes to boost the amount of electricity produced from sunlight. The resulting product is known as Emitter solar cells. The company anticipates its Selective Emitter technology could represent 13 percent of crystalline silicon solar cell production by 2013 and increase to 38 percent by 2020.
Burke added, "Innovalight brings in-depth knowledge of solar devices, silicon technology and Selective Emitter technology, and DuPont adds expertise in materials science, manufacturing capabilities and global market access. Our offerings are complementary to one another, and together we will broaden and accelerate our ability to meet customer needs and address today's energy challenges with our continued innovations."
This is the second renewable energy company that DuPont has been in partnership this year that it has acquired. Earlier this year, it purchased Danisco.