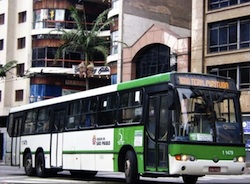 Sugarcane is not just for ethanol. Amryis Brasil S.A., the Brazilian arm of Amyris, has announced that it will be supplying 160 city buses in São Paulo with its Diesel de Cana, or renewable diesel produced from sugarcane. Beginning this August and expiring at the end of 2012, buses operated by the Viação Santa Brígida will run on a blend of 10 percent Diesel de Cana, with the remaining fuel blend comprised of biodiesel and petroleum diesel supplied by Petrobrás Distribuidora.
"Following the successful launch of our first industrial scale production facility and the positive results of the fleet testing in Brazil, we are thrilled to be a commercial supplier of renewable fuel for buses in Brazil's largest city. Over the next year, as we expand our fuel supply agreements with bus fleets in São Paulo, we expect to achieve $10-12 million in annual diesel sales," said John Melo, CEO of Amyris.
São Paulo currently has more than 15,000 buses that burn nearly 450 million liters of diesel per year. The move to Diesel de Cana signals the city's commitment to reducing its fossil fuel use by 10 percent each year through 2018.
Melo continued, "Brazil's growing demand for low-sulfur diesel creates a significant opportunity to highlight the superior performance and benefits of our renewable diesel while allowing the country to reduce diesel fuel imports, which comprised nearly 20 percent of Brazil's diesel needs in 2010."
The fuel has been tested by SPTrans, Mercedes-Benz, Petrobrás Distribuidora, and Viação Santa Brígida and the results show that when a 10 percent blend of Diesel de Cana is added to a B5 S50 blend, the fuel can lower smoke up to an additional 40 percent. Commercial vehicle manufacturers, including Mercedes-Benz have issued warranties for the B10 Diesel de Cana blend.