In February of this year, the U.S. Department of Energy (DOE) unveiled its SunShot Initiative designed to help reduce the costs associated with solar power by at least 75 percent by the end of the decade. This week, during the InterSolar North America conference, Minh Le, a principal scientist with the DOE, introduced SUNPATH – Scaling Up Nascent PV at Home. While the program details have not been specified, the program is intended to address the financial gap in the U.S. solar market.
Le said during his presentation that there is a trade gap caused by the country's spending on foreign sources of energy – a move that is helping to prolong poor economic conditions. "Oil is about half our trade deficit," Le said. He continued by saying transitioning to renewable energy will provide a means to resolve this problem.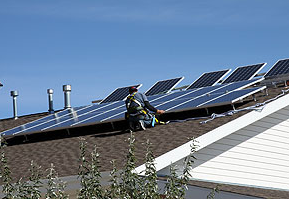 The two programs are designed to work together. SunShot focuses on reduces the costs of solar technology while SUNPATH is aimed to grow the domestic solar manufacturing market. Today, the majority of solar manufacturing is taking place in countries such as Europe and Asia.
"SUNPATH is an incubator program," Le said. "Now, as companies are being attracted by foreign capital, we're having a hard time keeping them in the U.S."
Fifteen years ago, the U.S. boasted a 43 percent market share for producing PV cells and modules. Today, the U.S. has only a 7 percent market share. As a result of the decline of the United State's global solar position, the program hopes to create an investment-friendly environment in the U.S. It also hopes to encourage solar companies to keep their business in the U.S.
You can view photos from the InterSolar North America conference in my event photo album.