This week, Waste Management (WM) commissioned its 1,000th natural gas truck. The company is the largest owner and operator of natural gas burning heavy duty trucks in North America. The truck was commissioned during a ceremony in Carson, California and on hand was Long Beach Mayor Bob Foster. The truck will be dedicated to picking up recyclable materials.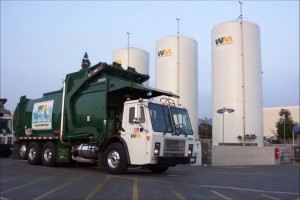 "This is a special milestone in our journey to develop the cleanest fleet of heavy duty trucks in our industry," said Duane Woods, senior vice president at Waste Management. "We are pleased that we have so many natural gas trucks now in service, particularly in Southern California where clean air is such a critical issue."
One third of WM's fleet is now fueled by liquified natural gas (LNG) derived from the decomposition of organic waste delivered and processed at the Altamont Landfill located in Livermore, California. The plant began producing LNG in November 2009, and in this time has been generating up to 13,000 gallons of LNG per day.
WM says that LNG is a "virtually zero-carbon transportation fuel," and with its current fleet, will displace nearly 8 million gallons of petroleum and 45,100 metric tons of greenhouse gas emissions per year.  In addition to its fleet, the company also has 17 compressed natural gas (CNG) and LNG fueling stations located at its facilities with more installations under development. The company also hopes to develop a new landfill-gas-to-LNG facility at its landfill located in Simi Valley, California, a facility that would be similar to its LNG facility at Altamont.
Mary Nichols, chair of the California Air Resources Board, added, "I'm pleased to celebrate the opening of this new facility that's quite literally turning trash into fuel, and helping us reach our environmental goals by reducing our greenhouse gas emissions and creating a healthier atmosphere for all Californians."