Yesterday, I spent the day checking out what was happening in the global solar industry at the InterSolar North America conference held in San Francisco, California. With more than 20,000 attendees and nearly 800 exhibitors, there is proof that the solar industry is gaining traction.
One company making news is Siemens Industry, Inc. who announced they received a multi-million dollar order from Interconnect Solar Development to supply solar technology for the 20 MW Murphy Flats solar project located in Idaho. Once complete, this will be Idaho Power Company's first commercial solar project integrated into its electricity grid. Siemens will be manufacturing the solar technology, that includes inverters, transformers and containers, will be manufactured at its plant in West Chicago.
"The Siemens team demonstrated a true understanding of our project objectives, and the team made a significant investment of their time and expertise to bring additional solar power to electricity customers in Idaho," said Bill Piske, founder of Interconnect Solar Development, LLC.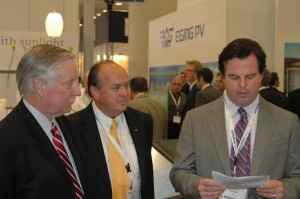 "Siemens Answers for Industry event first allowed our team the opportunity to learn about the integrated solutions provided by Siemens, as well as the company's significant portfolio of PV project experience in utility applications."
According to Siemens, their solar solutions will provide one of the lowest Levelized Cost of Electricity (LCOE) and their IGBT technology-based inverters are expected to deliver efficiencies greater than 98 percent. The Murphy Flats project will also feature Siemens PV-WinCC SCADA software.
Richard Myers, director of solar vertical market management for Siemens added, "We are proud that Interconnect Solar chose Siemens to be its partner for the Murphy Flats project. Additionally, our service and support will ensure uptime and plant efficiency throughout the project lifecycle by providing a 20-year customer service agreement."
You can view photos from the InterSolar North America conference in my event photo album.