LS9 has been making news with the announcement that they will collaborate with MAN Latin America to test their renewable diesel in both stationary engines and operational fleet vehicles in Brazil. The testing will cover performance, emissions, fuel consumption, and engine durability testing, as well as field testing of the company's biofuel in Volkswagen trucks and buses.
"Our collaboration with MAN Latin America reinforces our commitment to producing cost-effective, high-quality biofuels and making renewable, sustainable biodiesel made from sugarcane and other renewable sugars widely available to global consumers," said Ed Dineen, CEO of LS9. "Through this alliance, we intend to further demonstrate the high quality of our drop-in biofuels for the Brazil market, and to move closer to the commercialization of LS9 UltraClean Diesel."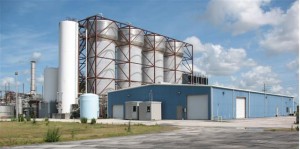 According to LS9 their UltraClean Diesel has been custom engineered to meet or exceed relevant diesel fuel standards while providing compelling economic and environmental benefits relative to petroleum diesel. The company also says their current fatty acid methyl ester (FAME) product has achieved the key parameters of B100 (100 percent biodiesel) – ASTM 6751 (United States), EN 14214 (European Union), and ANP 7 (Brazil) standards. LS9 believes its biodiesel overcomes several challenges inherent in first-generation biodiesel including a higher cost of production, poor oxidative stability and/or poor cold flow.
In other LS9 news, Bloomberg has reported the company is considering building Brazil's largest biofuel and specialty chemical plant. While plans have not yet been finalized, current plans include a plant that could produce up to 200 million gallons of biodiesel and chemicals per year. This size plant would be two-thirds bigger than the country's next largest facility.
"Brazil is going to be a focal point for us," said Dineen in the Bloomberg article. "We envisage multiple production units there."
He stressed that since the plans are not complete, the final plant could be smaller and the decision will be made based on feedstock availability and offtake interest. In addition, they are considering building a 75 million gallon per year plant that only produces biochemicals.