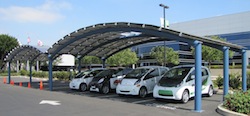 Mitsubishi Electric & Electronics USA along with Mitsubishi Motors of North America (MMNA) has debuted an electric vehicle (EV) solar-powered charging station at its MMNA headquarters in Cypress, California. This is the city's first of its kind EV charging station and the debut signals the company's commitment to developing and launching its first plug-in electric vehicle, the Mitsubishi i in all 50 states. The EV will be available this November. The charging station is powered by 96, 175W photovoltaic modules produced by Mitsubishi Electric. The solar panels are made with 100 percent lead-free solder, and according to the company, have one of the higher sunlight-to-energy conversion ratios in the industry.
The EV charger is able to charge up to four PHEV's simultaneously and features three types of chargers with different voltages: standard level 1 (110v) will fully charge an EV in 22 hours; level 2 (220v) that can fully charge an PHEV in six hours; and level 3 CHAdeMO Quick Charger that can charge the battery up to 80 percent in 25 minutes.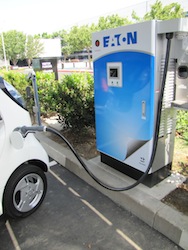 "This project will build awareness of solar power's versatility and efficiency," said Katsuya Takamiya, president and chief executive officer, Mitsubishi Electric & Electronics USA. "As electric vehicles' popularity grows, we expect to see more charging stations at large employers, automobile dealerships, shopping centers and schools, where cars can charge while people work, shop or study."
The DC Quick Charger used for the Cypress charging station is manufactured by Eaton Corporation, and is the first-of-its-kind CHAdeMO Quick Charger certified for U.S. sale and public utility. Mitsubishi hopes that consumers who purchase the Mitsubishi i will use the charging station as gateway charging pad when commuting between Los Angeles and Orange Counties.
Mitsubishi Motors North America President Yoichi Yokozawa added, "We hope that our dealers, learning institutions, and municipalities will look to this technology with a keen eye towards the future, and bear in mind that the gradual acceptance of the pure-EV transportation will be aided by increasing the number of facilities like this one."