The Load Toad™ was on the loose in Indianapolis last week.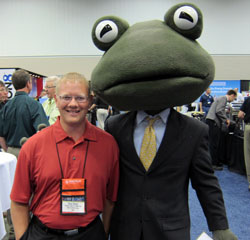 The patented Load Toad™ technology that evenly distributes distillers' dried grains onto rail cars was unveiled for the first time at the 2011 Fuel Ethanol Workshop in Indianapolis, IN. It was first announced at the end of last year.
"The Load Toad is used with conventional loading to enhance the process by pushing product out into the void space of the rail cars," said Joel Bordewyk, Associate Mechanical Engineer with POET, which developed the technology for their plants. The technology was installed in POET plants in 2010, and those plants have been able to load 3-5% more DDGS into each car.
"It goes straight to the bottom line," Bordewyk explains. "If you can ship 19 rail cars instead of 20 and each week you are cutting more and more rail cars out of your fleet, it's just more profit."
Listen to an interview with Joel who explains all about the Load Toad: Load Toad Interview
Our coverage of the 2011 Fuel Ethanol Workshop is being made possible by the Renewable Fuels Association.