Today consumers who support electric vehicles (EV) are pushing for plug-in electric vehicles (PHEVs). But in the not too distant future, EV owners will be able to charge their cars wirelessly. Utah State University Research Foundation's Energy Dynamics Laboratory, located in North Logan, Utah, has successfully operated the first high-power, high-efficiency wireless power transfer system. This system is able to transfer enough energy to rapidly charge an EV, demonstrating 90 percent electrical transfer technology of five kilowatts over an air gap of 10 inches.
"This demonstration is an extraordinary and historic step in providing technologies to electric vehicle owners who will be able to pull their cars into garages at home and charge without having to plug in with cords," said Jeff Muhs, director of the Energy Dynamics Laboratory. "Our scientists and engineers have proven that enough power can be transferred over large distances to safely and efficiently charge electric car batteries from a pad under the ground to a receiver attached to the undercarriage of a vehicle – and this is just the beginning."
As a base, EDL expanded on the theory that enables consumers to wirelessly charge toothbrushes and cell phones. According to the company, their wireless power transfer system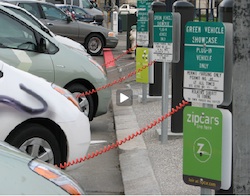 is tolerant within six inches in any direction if the user accidentally misaligns the car with the receiver. They also say the power level and efficiency specifications are firsts in the U.S. for a system of this kind and that there is no other similar system in the world.
Muhs added, "In the not-so-distant future, we will see vehicles go from being charged by plugging into the electric grid, to wirelessly charging in garages, shopping centers and dedicated refueling stations, to mass transit vehicles that are charged as they are in motion and eventually wireless electric roadways where cars will travel at 75 miles per hour while being charged."
"Future versions of the system architecture developed at EDL have the unique potential to be embedded under pavement and transfer power wirelessly to vehicles at speeds of 75 mph or more and provide enough power to completely eliminate the range anxiety of electric vehicles. Wireless power transfer represents the disruptive technology that will eventually enable the safe and efficient electrification of highways, end our dependence on foreign oil, and enable a new era of enhanced mobility," Muhs concluded.