Two hundred miles west of Wichita will be the home of the newest wind farm in Kansas. Duke Energy Renewables has announced they have purchased the 131-megawatt Cimarron II Windpower Project in Gray County. Construction will begin this fall and the project is expected to be generating wind power by June of 2012. The wind farm will be cited on 16,000 acres of leased farmland and Duke estimates that the wind farm will generate enough energy to power 40,000 homes each year.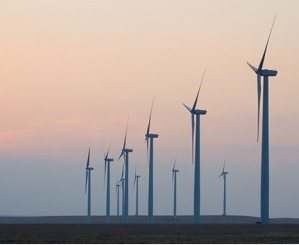 Duke purchased the project from CPV Renewable Energy who will maintain ownership of the first phase – Cimarron I. Kansas City Power & Light will purchase all generated power as well as the associated renewable energy credits for 28 years.
"Duke Energy Renewables is pleased to acquire this high-quality wind power project from CPV Renewable Energy and looks forward to helping Kansas City Power & Light deliver zero-emission electricity to its customers," said Duke Energy Renewables Senior Vice President Tony Dorazio.
In the past month, Duke Energy has announced plans to add three wind farms to its portfolio. Once the projects are complete, the company's wind-generated capacity will be nearly 1,300 megawatts or enough to power approximately 400,000 homes.
Sean Finnerty, senior vice president with CPV Renewable Energy Company added, "CPV Renewable Energy Company has teamed up with Duke Energy Renewables to ensure Cimarron II meets the needs of Kansas City Power & Light's customers. The project will bring significant benefits locally and to the citizens of Kansas."