Looking to save some cash on fuel costs? For those who can't reduce your driving should consider filling up with ethanol or E10 to be exact. Drivers in Iowa who have fueled up with E10 in 2011 have saved $50 million during the first five months of the year according to the Iowa Renewable Fuels Association (IRFA).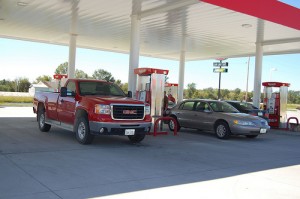 Ethanol sales in the state have remained steady at 75 percent of total gasoline sales totaling over 500 million gallons from January through May. The Iowa Department of Revenue released the figures and also noted that E10 blends averaged a 10-cent savings compared to E0 (100 percent gasoline) during that this time frame.
"Having just celebrated the Fourth of July weekend, Monty Shaw, Executive Director of IRFA said it is important to remember that Iowans choosing E10 will keep more money in their wallets. "With high crude oil prices driving up the cost of nearly everything we buy, from food to clothing, it is nice to know ethanol is helping to reduce high gasoline prices."
This is not the only proof that ethanol saves all consumers money at the pump. A recent study by the Center for Agricultural and Rural Development (CARD) at Iowa State University found that consumer savings from ethanol goes far beyond the price reduction at the pump. In fact, in 2010, Midwestern consumers saved an average of $1.37 per gallon because ethanol expanded the fuel supply and helped to drive down the cost of all gasoline products, regardless of ethanol content.
"Today, 25 percent of the gasoline produced from domestic resources is ethanol," added Shaw. "Having ethanol as an affordable, domestic alternative to high priced foreign oil is paying big dividends – for consumers, for jobs, and for energy security."