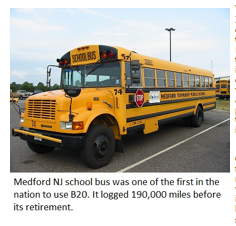 Medford, New Jersey's, and possibly the country's, first bus to run on a 20 percent blend of biodiesel (B20) has been retired. The 1998 International bus consumed more than 28,000 gallons of biodiesel during its lifetime and allowed children to ride to and from school and other events surrounded by cleaner air.
The bus was first fueled with B20 on November 17, 1997 and during its tenure logged 190,000 miles without ever needing any major engine work. In addition, the bust still has its original fuel injectors and pump. So if the bus is in mint condition why is it being retired? Because New Jersey has a mandatory school bus retirement age.
Joe Biluck, Director of Operations and Technology for the Medford, NJ Township Board of Education, sees the bus as symbolic of the biodiesel industry's challenges and achievements over the past 13 years. Furthermore, he points out that many of the children who rode the bus back in 1997 are now in their early 20s. He hopes that exposing those children and thousands of others over the past 13 years to a "real world" application of how renewable energy can be a successful alternative to fossil fuels has helped shape their views as adults about the importance of sustainable energy.