A pilot scale waste-to-energy facility is now up and running in Edmonton, Canada. The $12.5 million Advanced Energy Research Facility is comprised of both the plant and a full-scale lab. The project is a partnership between Alberta Innovates – Energy and Environment Solutions (AI-EES), the City of Edmonton and Enerkem. The province of Alberta is well known as an oil producing region and now the city hopes this project will begin to establish the region as a leader in generating renewable fuels.
"Alberta may be known for our oil and gas, but projects like this one prove we are leaders in green energy development too," said the Honourable Greg Weadick, Minister of Advanced Education and Technology. "Countries worldwide want greener energy and there's no other place with our combination of research talent, one-of-a-kind infrastructure, and background in energy development to bring this kind of technology to the world."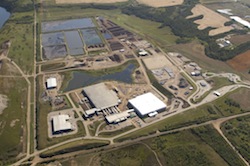 The waste-to-energy plant, being built by Enerkem Alberta Biofuels, will be able to produce biofuels and biochemicals from various waste products include non-hazardous waste from the oil and gas industry, ag and forestry waste and organic waste from the municipal sector. This project is just one part of a $132.5 million waste-to-energy project that also includes a municipal waste processing facility being built by the City of Edmonton.
Edmonton Mayor Stephen Mandel said of the project, "Edmonton is a pioneer in waste management and this research centre helps us enter the next phase of our strategy, which is to recover value from waste that can't be recycled or composted.This is a major component of the City's plan to manage our waste in an efficient and environmentally responsible manner."
The Advanced Energy Research Facility was supported in part by the Government of Alberta though a $29 million AI-EES grant as well as $3.35 million from Alberta Energy. In addition, the City of Edmonton contributed $43.5 million to the project.
Vincent Chornet, President and CEO of Enerkem added, "Enerkem is proud to take part in this innovative project, by providing its leading technology and expertise in the conversion of waste into biochemicals and clean fuels. This state-of-the-art facility will attract high calibre researchers from around the world, and will lead to the production of more sustainable products."