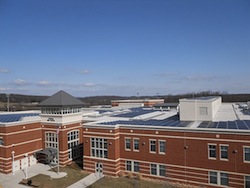 Maryland is the home of two new commercial solar projects. The systems are located in Talbot and Frederick Counties. One system is comprised of a 550kW ground mount solar array for the Talbot County Community Center in Easton, MD. The other system is a 499kW rooftop system for Oakdale High School in ljamsville, MD. The two systems were developed and installed via a partnership between Mercury Solar Systems and Nautilus Solar.
"Maryland has accelerated its adoption of solar energy over the past twelve months and we believe projects like Talbot County's will spur additional activity in this sector in the months ahead," said Frank Alfano, CEO, Mercury Solar Systems. "We are committed to extending our leadership position into the Maryland market and are pleased to have partnered with Nautilus Solar on these two initial projects."
Talbot County's solar system is the largest funded to date by The Maryland Energy Administration's Project Sunburst Program.
Rick Towle, Director of the Talbot County Department of Parks & Recreation added, "Talbot County Council support allowed this forward thinking arrangement to take shape as part of a process to help County owned facilities model environmentally responsible operations. We thank Mercury Solar Systems and Nautilus Solar for making this solar project a reality — it will produce a significant amount of clean energy for our community and reduce our electricity costs by 50 percent."