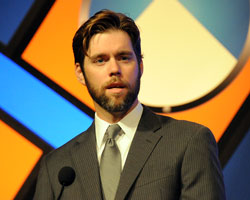 The mood was very upbeat at the 27th International Fuel Ethanol Workshop. I spoke with Tom Bryan, BBI International, about how he would characterize this year's event which concluded yesterday.
Tom says the technical sessions were extremely well attended. In fact, chairs had to be added to some of them due to the attendance in them. He says there were over 2,000 in attendance this year. That may not be as high as several years ago but shows that the industry is resilient and upbeat for the future. Tom Bryan Interview
I have several more interviews from this year's event that I will be posting over the coming days. Thanks a lot to BBI International for allowing me to attend and for all the support they provide us. Their crew is top notch and a joy to work with.
Our coverage of the 2011 Fuel Ethanol Workshop is being made possible by the Renewable Fuels Association.