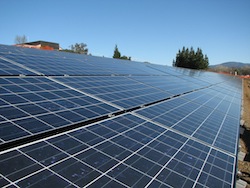 Butte College in California is the first in the nation to go 'grid positive'. The school will generate more electricity from its solar arrays than it consumers and will deliver the excess renewable energy back to the electric grid. The college sits on a 928-acre wildlife refuge located 75 miles from Sacramento. The solar array is comprised of 25,000 solar panels that will generate an estimated 6.5 million kilowatt hours of electricity per year. This is enough to power the entire college or 941 average sized homes.
"Butte College has had a longstanding commitment to sustainability. Achieving grid-positive status marks the culmination of years of effort to build Butte College's supply of solar power and to improve energy efficiency on campus," said Dr. Diana Van Der Ploeg , Butte College president. "Having the support of the board of trustees, faculty, staff, and students was essential to making this achievement possible."
The solar system should save the college an estimated $50-$75 million over 15 years, even when factoring in the costs for the project. The savings will come from eliminating its electricity bill, profits made from selling the excess power and avoiding future electricity rate hikes. The college is planning on using the increased monies to improve student programs and increase enrollment.
"I've asked community colleges to become more entrepreneurial and seek out new and innovative ways to generate revenue and to cut operating costs," said California Community Colleges Chancellor Jack Scott. "Butte College dramatically accomplishes both of these goals by becoming grid positive. Furthermore, this college's solar arrays will train workers for jobs in the green energy field – an outcome that will help California's economy and recovery."