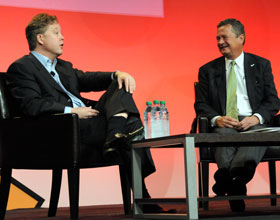 Our "Keynote Conversation" this morning at the Fuel Ethanol Workshop was between Brian France, NASCAR CEO (left) and Tom Buis, Growth Energy, CEO. These two CEO's talked about the relationship between the racing league and American Ethanol and what it means for ethanol producers and the general public. As we have seen with the Indy Racing League starting several years ago and continuing today, the high performance race cars of NASCAR are now proving that they can run just fine on a fifteen percent blend. At the beginning of the conversation you'll hear Brian talk about how well ethanol performs in their cars. "Our industry with a lot of testing in the most difficult circumstances, 500 miles at 200MPH . . . this fuel has been a great fuel for NASCAR and we're happy to be your partner." He says it has been a step in the direction of going green since the fuel reduces emissions. I think you'll find the conversation very enlightening, especially if you're one of the critics out there who for some reason refuse to believe the facts on performance and why we should all be supporting an American made biofuel.
You can listen to or download the conversation here. A NASCAR Conversation at FEW
Our coverage of the 2011 Fuel Ethanol Workshop is being made possible by the Renewable Fuels Association.