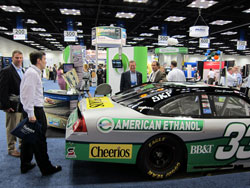 The 2011 Fuel Ethanol Workshop is underway in Indianapolis, IN. The program gets underway tomorrow. I'll be providing photos and interviews during the next several days.
I got in during the opening reception which was held in the trade show. It was a nice relaxing time to catch up with friends in the industry.
The program is fully packed with simultaneous workshops and general sessions that will cover some of the most current issues in the industry. I'm collecting photos in an online photo album which you can find here: 2011 FEW Photo Album
Our coverage of the 2011 Fuel Ethanol Workshop is being made possible by the Renewable Fuels Association.