A solar project has been completed at Marine Corps Base in Camp Pendleton (San Diego) that consists of a 936 kW solar electric car port. The system was designed by Independent Energy Solutions (IES) and the system is located at Pendleton's new Bachelor Enlisted Quarters. The solar project is estimated to produce nearly 1.3 million kilowatt hours per year and will also serve as a shade structure and cover for parked cars.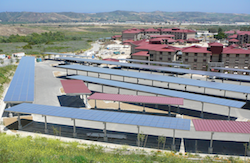 The finished project consists of 15 custom steel shade canopies, 4,352 Kyocera solar modules, 4 Satcon inverters and a customized racking system. It produces the equivalent power to 120 average single-family homes and will offset about 860 tons of greenhouse gases annually. The CO2 reduction is similar to removing 215 cars from the road.
"IES has been working with the United States military on a wide range of solar projects for the past decade – everything from high-tech experimental systems to large-scale generation plants such as this. As a woman-owned business, we are so pleased the military and our contracting partners like Harper Construction continue to take advantage of our ability to deliver and self-perform a quality product on-time and on-budget," concluded IES President and CEO, Linda Strand.