The Paris air show is taking place this week and biofuels have taken to the air in a dramatic fashion. Today, the European Commission and Airbus, along with several leading European airlines and European biofuel producers, have launched a new industry wide initiative to try and speed up the commercialization of aviation biofuels throughout the country. "Biofuel Flightpath," is a roadmap with precise actions to achieve the goal of two million tonnes of biofuel used each year by the aviation industry by 2020. As part of the plan, the biofuels will be produced using biomass from Europe. The plan has the backing of the European Commissioner, Günther Oettinger, Airbus CEO Tom Enders, and other key industry players.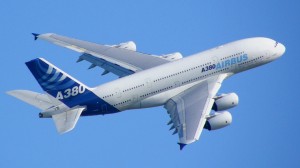 "This is a unique opportunity to create the first industrial venture ever introducing sustainable biofuels for commercially competitive operations. The Commission therefore fully supports all efforts in this direction and will actively contribute to their success. They are fully in line with our European Strategic Energy Technology Plan," said Mr Günter H. Oettinger, European Commissioner for Energy.
The Biofuel Flightplan also lays out a plan to establish much needed financing to bring aviation biofuel technology to market at commercial scale biorefineries. More specifically the Biofuel Flightpath aims to:
• Facilitate the development of standards for drop-in biofuels and for their certification
• Work together with the full supply chain to further develop worldwide accepted sustainability certification.
• Facilitate dedicated aviation biofuel production at a reasonable cost by agreeing to tangible biofuel supply and purchase commitments.
• Promote appropriate legislative measures to ensure the market uptake of paraffinic biofuels by the aviation sector.
• Accelerate research and innovation into advanced biofuel technologies, including algae.
• Establish financing structures to facilitate sustainable biofuel projects.
• Publicly promote the benefits of replacing kerosene by sustainable biofuels.
Marcell Ulrichs, CEO of CHOREN Industries who is in the process of building an advanced biofuels plant in Germany, added, "Aviation biofuels are today technically possible and our biofuels sector is ready to help meet the Flightpath targets towards its commercialisation. Together with airlines and public stakeholders, we will create viable and cost competitive business cases for the production and utilisation of sustainably produced aviation biofuels. We are committed to enabling the global aviation community to reduce its carbon footprint and its dependence on crude."