Genencor has announced its next generation cellulosic ethanol enzyme, Accellerase TRIO. The enzyme will help biofuel producers more cost-effectively produce cellulosic ethanol from a wide-range of renewable feedstocks including switchgrass, wheat straw, corn stover and municipal waste. In essence, this enzyme improves the effectiveness of converting biomass into sugars, one of the critical steps in the production process.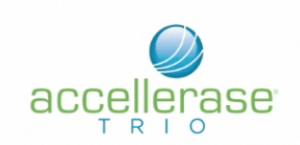 Accellerase TRIO can be thought of as an enzyme cocktail that combines into one product the ability to breakdown the glucan (C6) and xylan (C5) in the biomass feedstock into fermentable sugars. This solution increases ethanol yield per unit of feedstock and also helps to boost total production by lowering viscosity and enabling producers to process more biomass.
I spoke with Dr. Aaron Kelley, Director of Business Development for Genencor, via Skype to learn more about their new product. He noted that there are three main points he wants to drive home about Accellerase TRIO.
"One, we think it is a very significant improvement for the industry and a significant improvement for Genencor over Accellerase DUET, our last Accellerase product. So as we look across the spectrum of biomass feedstocks and pretreatments we're seeing a two-fold reduction in the amount of enzymes needed to reach the same level of production. That's very significant for the industry."
Kelley continued, "We also think Accellerase TRIO is one of the most easy to use and complete products out there in the market today. It really combines all the necessary cellulase and hemi-cellulase activities to get conversion to monomeric sugars and that's what the yeast and other things need to produce cellulosic ethanol."
You can listen to my full interview with Aaron Kelley, where he also discusses the recent lowering of the advanced biofuels requirement in the Renewable Fuels Standard, here: Accellerase TRIO Launched
The enzyme has shown significant results across the board in feedstocks ranging from stovers to dedicated energy crops to municipal solid waste. Several companies have already been using the enzyme with great success. However, Kelley notes that while Accellerase is effective among the suite of feedstocks today, in the future, they may look at tailoring the enzyme for specific feedstocks.
The announcement has come on the cusp of the Fuel Ethanol Workshop that will take place in Indianapolis, Indiana beginning on Monday, June 27th. Kelley, who will be at the show, expects a lot of interest in the product from producers.