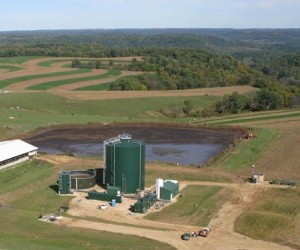 Homeland Biogas Energy (HB Energy) has announced they have signed an exclusive licensing agreement with Achor Anaerobic LLC to use their "achorlytic" enzyme and digestion-inoculating technology to increase the productivity of its anaerobic digestion projects. HB Energy is a division of Homeland Renewable Energy (HRE), a company focused on producing energy from agricultural waste and they will also work with Achor to license the technology to third parties.
"With the benefit of Achor's technology and our project design, construction and operating skills, we are well placed to develop our pipeline of new large-scale AD plants, serving our customers in livestock farming and food processing," said Rupert Fraser, Chief Executive Officer of HRE. "Achor's technology will enable us to build larger scale anaerobic digestion plants with more competitive economics, so that we can produce truly renewable energy while removing waste problems for farmers and food companies."
The enzymes increase biogas production from digestible materials including animal and food wastes. The two companies are currently in the process of testing the enzyme at HB Energy's facility in Wisconsin and preliminary indications are that the improvements are significant. HB Energy uses the ag waste to produce energy including biogas or electricity. To date, they have more than 15 large scale development projects in the works ranging from 3 MW to 20 MW.
Chris Barry, cofounder of Achor and originator of the achorlytic approach to accelerating and enhancing anaerobic digestion, added "Achor Anaerobic is delighted to be working in partnership with HB Energy. The business, engineering and planning base provided by HB Energy provides the perfect platform for the exploitation and expansion of our technology. We aim to make HB Energy the most advanced and profitable AD company in the US and beyond through enabling them to get the very best from the feedstocks available. We will work with them on innovative design and development that will be 'game-changing' in the field of anaerobic digestion and bioenergy."