Solena Fuels has received multiple letters of intent from members of Air Transport Association of America, Inc. (ATA) to supply biojet fuel made from biomass produced in Northern California. The biojet fuel will be produced at Solena's "GreenSky California" biomass-to-liquids biorefinery in Santa Clara County and utilize post-recycled urban and agricultural wastes to produce nearly 16 million gallons each year by 2015. The biojet fuel will be used by airlines at the Oakland, San Francisco and San Jose airports.
"We applaud the airlines' pledge to use our lower-emissions fuel to support their northern California operations, and we look forward to partnering with them to develop a facility that allows them to more sustainably operate their business," said Dr. Robert Do, Chairman and Chief Executive of Solena Fuels.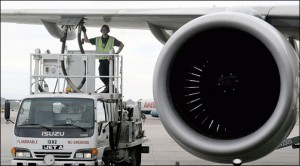 This initiative is a result of ATA's role in the Commercial Aviation Alternative Fuels Initiative (CAAFI), whose goal is to develop and deploy commercially viable, environmentally friendly alternative aviation fuels.
"Today's announcement reinforces the ongoing steps that ATA member airlines are taking to stimulate competition in jet fuel production, contribute to the creation of green jobs, and promote energy security through economically viable alternatives that also demonstrate global and local environmental benefits," said ATA President and CEO Nicholas E. Calio.
The agreement was led by American Airlines and United Holdings and the two airlines were joined by Alaska Airlines, FedEx, JetBlue Airways, Southwest Airlines, and US Airways. Also signing the letter of intent include Air Canada, Frontier Airlines, and Lufthansa German Airlines. This is not the first biojet fuel initiative for many of these airlines. Alaska Airlines is a also a member of Sustainable Aviation Fuels Northwest and FedEx has been experimenting with biofuels in many areas of their transportation network.