The site preparation has been completed for BlueFire Renewables' cellulosic ethanol plant in Fulton, Mississippi. The work was conducted by Century Construction and the site is now ready for the construction of the plant to begin.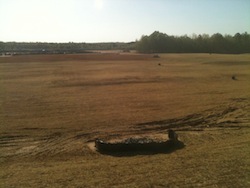 "With support from the County of Itawamba and the City of Fulton and excellent work done by Century Construction, the Fulton site is ready for facility construction," said Arnold Klann, CEO of BlueFire Renewables, Inc. "We are happy to be working with the County and City to bring renewable fuel production into reality and, in the process, create local jobs."
Klann said his company is working on various financing options including a pending loan guarantee application with the United State Department of Agriculture.
"Itawamba County is very pleased to join BlueFire Renewables in the effort to alleviate our dependence on foreign fuels, preserve our environment and spur our economy, said Greg Deakle, Itawamba County Executive Director. "BlueFire's first phase of construction has already created 52 jobs in Fulton and, as BlueFire moves into its next phase of construction, will create numerous more."
When the project is completed, BlueFire will produce 19 million gallons per year of cellulosic ethanol from green and wood wastes collected from the local region.