Last week was a crazy week in DC as several amendments to alter or kill the Volumetric Ethanol Excise Tax Credit (VEETC) were voted on by the Senate. While the first vote was in favor of ethanol (it defeated the Coburn amendment), the industry took a hit when Sen. Dianne Feinstein's (D-CA) bill was passed, essentially killing VEETC and the tariff without a phase-out plan (but the ethanol industry doesn't think it will pass into law). So who spent the most money to get their way on VEETC? Lobbyists against VEETC outnumbered and outspent pro-ethanol groups, according to data from First Street-CQ Press' new policy intelligence platform.
First street followed the money dedicated to lobbying for both Senate Bill S. 520 Volumetric Ethanol Excise Tax Credit Repeal Act and House Bill H.R. 1075 Volumetric Ethanol Excise Tax Credit Repeal Act. During first quarter of this year, there were 32 lobbying firms representing 36 clients to the tune of $8,895,893.00. There were 22 lobbying firms active on the House side representing 18 clients and spent $3,645,862.08. So first quarter alone, more than $12 million was spent on lobbying for VEETC reform.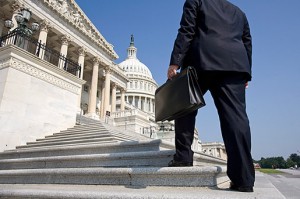 Who were the players on the Hill? Most were the usual suspects. On the pro-ethanol side the biggest spenders were Growth Energy, Renewable Fuels Association, National Corn Growers Association, and POET, who spent $450,000 to just lobby against the VEETC legislation in the House. In the last three years, UNICA, the Brazilian Sugarcane Industry Association, spent more than $500,000 to lobby for the end of the tariffs as well as various other ethanol amendments.
On the anti-ethanol side you had the Grocery Manufacturers Association (GMA), National Retail Federation, League of Conservation Voters, Environmental Working Group, American Meat Institute, National Cattleman's Beef Association, National Turkey Federation, and more. The biggest spender was GMA who spent $900,000 lobbying for the House bill alone. On the Senate bill side, your two biggest spenders were Pepsico with $1.44 million followed by Kraft who spent $720,000 to get the bill passed.
As the debate continues around subsidies and balancing the federal budget, ethanol and other biofuel tax incentives are at the center of the chopping block and have already become an important policy point for the Republic presidential candidates. And anti-ethanol groups are stepping up their game with new advertising campaigns aimed at both policymakers and consumers, as well as an all-out assault in the realm of social media (there are now social media-focused lobbyists). It will come as no surprise then, to see millions upon millions more spent throughout the year on VEETC and other biofuel subsidy reform.