Over the weekend, a transatlantic flight, flying with biofuels, landed at the Paris-Le Bourget Airport. The plane was fueled with Honeywell's Green Jet Fuel. The Honeywell-operated Gulfstream G450, powered by a Rolls-Royce engine, is the first flight from North America to Europe using the 50/50 biofuel blend derived from camelina grown and harvested by Sustainable Oils.
The flight departed at 9:00 pm on Friday, June 17th from Morristown, New Jersey and arrived in Paris approximately 7 hours later, on Saturday, June 18. The flight followed the route taken by Charles Lindbergh's first flight across the Atlantic. According to Honeywell, using lifecycle analysis, its Green Jet Fuel eliminated 5.5 metric tons of carbon dioxide as compared to the same flight if using petroluem-only based jet fuel.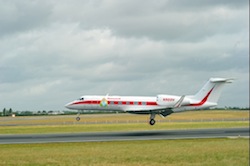 "This first biofuel trip across the Atlantic, along with more than a dozen other commercial and military test flights conducted to date, demonstrates that Honeywell Green Jet Fuel more than meets the demanding requirements for air travel," said Jim Rekoske, vice president and general manager of Renewable Energy and Chemicals for Honeywell's UOP. "Now that the initial ASTM International approval is in place, we are one step closer to commercial use that will help the aviation community reduce its carbon footprint and dependence on crude."
Pres Henne, senior vice president, Programs, Engineering and Test for Gulfstream added, "Gulfstream is committed to achieving business aviation's ambitious goals on emissions reductions. These include carbon neutral growth by 2020 and a reduction in total carbon emissions of 50 percent by 2050 relative to 2005. We are working with engine companies and other innovators, such as Honeywell, to ensure we can meet these initiatives. We are very proud to participate in this historic demonstration."
Honeywell has produced more than 700,000 gallons of Honeywell Green Jet Fuel for use in commercial and military testing. In each of the 16 biofuel flights conducted to date, Honeywell Green Jet Fuel proved that it meets all specifications for flight on military and commercial platforms without any modification to the aircraft or engines.