The Future in Review (FiRe) technology conference was held last week and during the event, 11 companies were honored for their "world-changing" technologies. Scientists from around the world submitted more than 1,000 technologies for review and one of the winners was waste-to-energy company Easy Energy Systems (EES). The company's technology is the Modular Ethanol Production System (MEPS) that turns any organic waste into ethanol. Materials that can be used include waste paper and milk whey. The units are pre-built, small and self-contained and can be shipped anywhere in the world where they are assembled into an ethanol plant.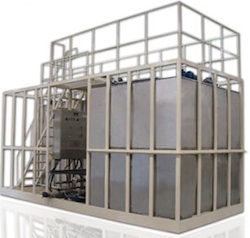 "To be included as one of the featured companies at this event was a true honor for EES, and we are grateful to have had this opportunity," said EES chairman and founder, Mark Gaalswyk. "This is an incredible event that does a wonderful job of bringing together the brightest and most innovative people in this industry. We expect to have a big year ahead for getting the MEPS to market, and it couldn't have started off better than winning this recognition."
MEPS is different than other large-scale ethanol plants in that it allows farmers, food producers and municipalities the ability to create ethanol from small batches of waste material that would usually be discarded. The patent-pending technology converts soda pop, wood, waste crop residue such as corn corns, food scraps, and more into ethanol.
Future in Review is an annual conference of global leaders, scientists and entrepreneurs aimed at working together to solve world problems.