Proterra Inc has secured $30 million in financing led by Silicon Valley venture firm Kleiner Perkins Caufield & Byers. Also participating were GM Ventures, Mitsui & Co. Ltd., Vision Ridge Partners, and 88 Green Ventures. Golden, Colorado-based Proterra will use the money to accelerate the commercialization of its fast-charge battery electric transit buses and automated bus charging system.
"Our goal at Proterra is to fundamentally transform urban transit," said Jeff Granato, President of Proterra. "The tremendous resources of Kleiner Perkins, leveraged with GM's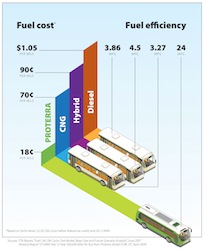 automotive expertise and the financial and technical strength of Mitsui, Vision Ridge and 88 Green Ventures gives us an enviable platform to compete and win in the electric transit bus market."
Proterra's main product is its 35 foot EcoRide BE35 bus. A bus is currently being tested by Foothill Transit in Pomona, California since last September. The company plans to deliver EcoRide buses to VIA Transit in San Antonio and Tallahassee Star Metro later this year. The bus is emission free, quiet and charges in less than 10 minutes with the company's FastFill charging station. When compared to the diesel buses EcoRide is designed to replace, the bus is averaging nearly 24 miles per gallon, a 600 percent improvement over a typical diesel bus that averages only 4 miles or less per gallon.
Former Vice President Al Gore, a partner with Kleiner Perkins Caufield & Byers noted, "Electrification of public transportation has tremendous benefits to governments, municipalities and citizens by reducing the operating cost of transit, while also eliminating local air pollution and reducing C02 per passenger mile in the industry.
The funds will be used to complete federal validation testing, launch additional pilot fleets, as well as enable the company to reduce costs and increase volume of production at its production facility in Greenville, South Carolina.