Geneva, New York is the home of the newest propane autogas fueling station. The station is owned by Phelps Sungas and the conversion took place with the help of Alliance AutoGas. To mark the event, a ceremony was held and on hand were New York State Senator Michael F. Nozzolio, Finger Lakes Regional Director for New York Empire State Development, Bob McNary along with President of Phelps Sungas, Roland Penta who is also the Chairman of the National Propane Gas Association.
"Propane autogas is a clean, cost-effective and domestically produced vehicle fuel that is rapidly growing in popularity with fleets across the country," said Penta. "Our new fueling station in Geneva is a crucial step toward making American-made autogas more widely available to the public. Not only do vehicles running on autogas experience lower fuel costs, the up-front expense of implementing autogas fueling infrastructure is significantly lower than that of other alternative fuels—making it a much more viable choice for going green while saving some green."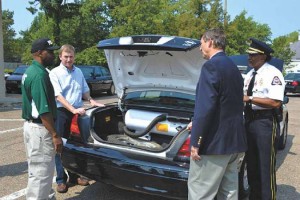 In other Alliance AutoGas news, the City of West Point, Mississippi plans to convert eight 2009 Ford Crown Victoria police cruisers to propane autogas. To help with the conversions, Alliance AutoGas offers not only vehicle conversions but also on-site fueling and ongoing safety training and technical support.
According to Police Chief Bobby Lane, whose team will be utilizing the converted vehicles, the propane-powered engines are expected to last two-three times longer with projected savings for the city of $26,000 annually.
"The city of West Point is ultimately supporting American energy security by running their police fleet vehicles on autogas," added Alliance AutoGas representative Mark Denton. "The U.S. autogas supply is more than 90 percent made-in-America, so these officers can feel good knowing they're helping reduce our nation's dependence on foreign oil."