The ethanol industry is criticizing Sen. Tom Coburn's (R-OK) amendment to eliminate the Volumetric Ethanol Excise Tax Credit (VEETC) immediately. During the past few months, the ethanol industry has acknowledged that the time is near for the tax credit to be phased out and has offered bipartisan plans to phase out VEETC over the next five years. Growth Energy has called his action a "job killing amendment" that would "permit hostile countries to exert influence over our economy by blocking American motorists from choosing the only viable alternative to foreign oil: domestic ethanol."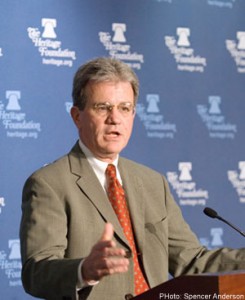 "Sen. Coburn filed his legislation within 24 hours of OPEC's decision to let Americans suffer through high gas prices this summer," added Growth Energy CEO Tom Buis. "Sen. Coburn clearly doesn't see the danger of letting Iran, Venezuela and Libya control our economy, but there are other senators who do. Domestic ethanol is the only viable alternative we have to foreign oil. Ironically, Sen. Coburn proposes his legislation to repeal ethanol tax policy just weeks after he helped defeat an effort to cut tens of billions of dollars in taxpayer giveaways to global oil companies who recently received all time record profits at the expense of American motorists."
This amendment puts Big Oil politics ahead of the best interests of the country, believes Brian Jennings, executive director of the American Coalition for Ethanol (ACE). According to opensecrets.org, Coburn received $250,000 in campaign contributions from oil and gas companies since 2005. Jennings says that as a result, Coburn is doing the bidding of Big Oil, which is to effectively raise fuel prices on consumers, put American ethanol jobs in jeopardy and keep America dependent on foreign oil.
Jennings added, "ACE members encourage Senators to vote against the Coburn amendment and support our effort to reform VEETC, promote next-generation biofuels and provide consumers with fuel choice. We also urge Congress to recognize that budget cuts shouldn't disproportionately discriminate against American ethanol while leaving taxpayers on the hook for hundreds of billions of dollars of subsidies for oil companies."
The Renewable Fuels Association and Growth Energy are also asking consumers to contact their Senators and ask them to Vote NO on this amendment.