For those living in Canada, United States and England, SolarDay is June 18, 2011. However, if you live in Australia, you'll have to wait until November 19, 2011 – but no worries, I'm sure you'll get some great ideas from the events that will take place on or around June 18th. The event has grown from one event in 2009, a biodiesel bus tour of solar homes and businesses in San Francisco, to events in 26 U.S. cities in 2010.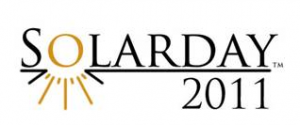 This year the international event, designed to create awareness and adoption of solar energy, has gained momentum with recognition from the U.S. Congress. U.S. Congresswoman Doris Matsui and California Senator Dianne Feinstein have submitted letters in support of SolarDay 2011 and both women are encouraging the public to learn about how solar energy can save on energy costs while providing green collar jobs.
One tip on saving some coin on your energy bill? Install a solar hot water heater. China is one of the countries leading the way with this technology. While in the U.S. there is an upfront cost to the solar water heater, it will save money over time and needs little to no maintenance. To sweeten the pot, many utility companies offer rebates. Click here to learn more about local SolarDay 2011 events in your city.