Trojan Battery Company has expanded its product line with the release of the Industrial flooded line of batteries designed for use with renewable energy. The batteries were developed to support large daily loads where batteries are regularly cycled, the case with photovoltaic (PV) systems. Storage of the energy generated by solar systems has been a challenge for the industry.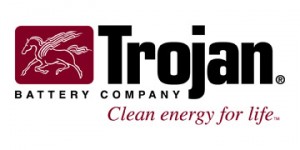 "As its renewable energy business continues to grow, Trojan Battery is committed to investing in the right mix of products and services needed to maintain its leadership role in the industry," said Bryan Godber, vice president of renewable energy at Trojan Battery. "Recognizing the importance of this emerging market, Trojan has directed its attention toward leveraging its expertise in deep-cycle battery technology to engineer products specifically for RE applications for large sized RE and backup power systems."
The new line is designed for use in large off-grid PV systems, off-grid hybrid PV system, smart grid peak shifting systems as well as grid-tied PV systems with battery backup. The ability for use with various configurations of solar PV systems make these batteries ideal. The batteries meet all international standards including the International Electrotechnical Commission and the Battery Council International standards.
Godber added, "Trojan batteries are recognized around the globe for providing reliable power under the most challenging conditions. The addition of the Industrial line to Trojan's extensive battery offerings that include the Premium and T2 flooded batteries and the AGM and gel products, strengthens the company's position as one of the leading deep-cycle battery manufacturers in this marketplace."