The largest electric vehicle (EV) trial is underway in Canada. According to Hydro-Quebec, a number of Mitsubishi iMiEVs have been delivered to several Boucherville businesses selected to participate in the second phase of the EV trials. The iMiEV stands for Mitsubishi Innovative Electric Vehicle and is an all-electric, plug-in vehicle with zero tailpipe emissions. The iMiEV can travel 120 km, or 74.5 miles, on a single charge. Using a 240-volt outlet, the car can be charged in 6 hours, or 13 hours using a 120-volt outlet. However, using a quick-charge station, the EV's battery can complete an 80 percent charge in 30 minutes.
"We are delighted with the response we've received from Boucherville businesses. This second phase brings us to the very heart of the project, focusing on the needs of businesses and their employees who work in Boucherville," said Thierry Vandal, President and Chief Executive Officer of Hydro-Québec.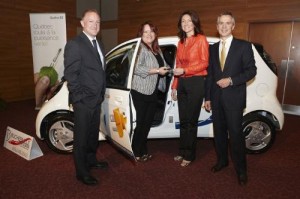 The EV testing was coordinated by Hydo-Quebec and have been designed to study users' charging habits, driving experiences and overall satisfaction. In addition, the tests will study vehicle behavior when the cars are plugged in to the electric grid. On April 7, the Quebec government passed the Action Plan for Electric Vehicles and this EV testing program is part of that initiative.
"I hope that drivers working for the businesses selected in the second phase will be as delighted as I am to be driving an i-MIEV! The project has not only caught the attention of Boucherville businesses, but also sparked considerable interest among citizens," said Jean Martel, Mayor of Boucherville and spokesperson for the project's institutional users.
Koji Soga, President and CEO of Mitsubishi Motor Sales of Canada said of the project, "Our partnership with Hydro-Québec and our joint pilot project have met with much success over the last four months. The data collected and monthly reports have demonstrated that the i-MiEV technology is well suited to the Canadian market. The second phase of our program will help us better understand all-electric vehicles and will give them more visibility, allowing Québecers to become more familiar with this technology."