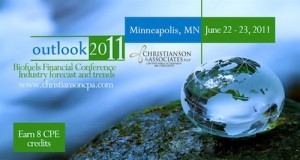 Despite high oil prices, the financial future of the ethanol industry could be a challenge due to high corn prices, fluctuating energy prices and uncertainty of the future of ethanol policies such as the Volumetric Ethanol Excise Tax Credit (VEETC). To learn more about managing plant risk and to foster the environment for the biofuels industry to better work together, Understanding Your Business is the focus of the 7th Annual Biofuels Financial Conference. The event will be held in Minneapolis, Minn. on June 22-23, 2011 at the Bloomington Embassy Suites.
John Christianson, Partner, Christianson & Associates, PLLP, notes that his company, which is both a CPA firm and a consulting firm that has worked in the biofuels industry for nearly 17 years, understands the importance of providing services and products that can help ensure financial success for a biofuels plant. One session will focus solely on risk management strategies while another session will focus opportunities to strengthen your business.
In addition, there will be a panel featuring the leaders of the American Coalition for Ethanol, Growth Energy and the Renewable Fuels Association discussing the state of the industry and how they are working together to move the ethanol industry forward. This dynamic, interactive panel will focus on answering conference participants' questions about legislative initiatives, reality of budget issues, interplay between first and second generation biofuels, the environment surrounding the emerging carbon economy as well as how to counter negative media and consumer biofuel attacks.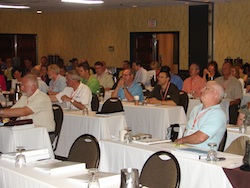 "It's important for people that make up the industry to get a good feel for when the industry is headed," said Christianson. "What are the legislative hurdles, what are the marketplace hurdles, what are the opportunities out there and how are the leaders of our industry helping us maximize those opportunities?"
Listen to my full interview with John Christianson here: 7th Annual Biofuels Financial Conference
Christianson said he wants to send a clear message to the industry, as well as the public, that industry leaders are talking and working together to solve industry issues. "We've got tremendous pressure from Congress with cost containment within the direction of our energy policy within the country. We have to look and find out how biofuels is going to fit within all of these parameters," said Christianson.
Attendees will be able to email questions prior to the panel as well as ask questions during the industry leader session. Questions can be emailed to Elizabeth VanDerBill at evanderbill@christiansoncpa.com.
Space is limited. Click here to view a full agenda and click here to register online.