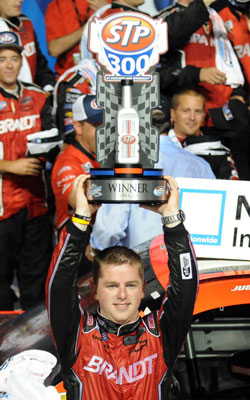 The inaugural STP 300 Nationwide Series race is in the books. The winner is Justin Aligaier, Brandt Racing, in the #31 car. He actually ran out of fuel right after crossing the finish line. These guys plan it right down to the end!
The Family Farmer/Marquis Energy car driven by Kenny Wallace finished 7th. And since all these cars are running on a fifteen percent blend of ethanol I think farmers win and ethanol producers win. Actually the American public wins with this clean burning fuel. Hopefully the efforts being taken by organizations like American Ethanol, National Corn Growers Association and my sponsor for this event coverage, the Illinois Corn Marketing Board, are paying off with better understanding by the public of the benefits and value of home grown fuel.
Here's the press conference with Justin following victory lane:
Justin Aligaier Press Conference
I'm going to upload some more photos and hit the road. More interviews will be posted in the next couple days.