Regulatory approvals have come through for Shell and Cosan's partnership to called Raizen. The new company's goal is to produce low-carbon biofuels from sugarcane. This Brazil-based multi-billion dollar venture is one of the largest to date. Raizen will produce and sell over 2 billion litres per year of ethanol produced from Brazilian sugarcane through the more than 4,500 Shell stations throughout the country. As part of this new venture, Shell has transferred its shares in biofuel company Codexis to the new company Raizen.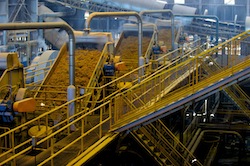 "We are building a leading position in the most efficient ethanol-producing country in the world," said Peter Voser, Shell Chief Executive Officer. "Low-carbon, sustainable biofuels will be increasingly important in the global transport fuel mix."
While Shell has invested in biofuel development and sells biofuels at the pump, this announcement marks the first time the company will be active in producing biofuels. Shell says this venture is part of a larger strategy for growth in the fuels business. Right out of the gate Raizen is the third largest fuels company in Brazil and long-term plans to export ethanol. Today, Raizen's 24 mills can process up to 62 million tonnes of cane into sugar or ethanol with the flexibility to increase production based on demand.
"This is a turning point in the search for alternative energy sources. Raizen is one of Brazil's largest companies and is ready to offer international markets a clean, renewable and economically viable solution," concluded Rubens Ometto Silveira Mello, Cosan's Chairman of the Board.