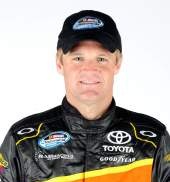 NASCAR Series Driver Kenny Wallace and co-host of the shows Race Day and Victory Lane, will be giving the keynote address during the 2011 Southeast Bioenergy Conference on August 9-11 in Tifton, Georgia. Wallace drives the No. 9 American Ethanol Toyota Camrey and is currently ranked 7th in the Series. Last week, Wallace completed his 500th Nationwide start bringing his career stats to nine wins, 10 poles, and nine seasons in the top 10 driver points. He has also won the Nationwide Series Most Popular Driver award three times.
NASCAR announced earlier this year it would race using Sunoco Green E15, a blend of 15 percent ethanol. To learn more about the fuel and the people who grow the crops and produce American ethanol, Wallace has spent time at ethanol plants and on farms.
Wallace will kick off the conference on Monday, August 9th at 8:30 am followed by a general session focusing on Global Markets for Biofuels and Bioproducts. Other sessions include Southeast Forestry's Bioenergy Potential, Promising Energy Crops For the Southeast, Innovative Approaches to Ethanol Production, E85, E15 – Creating a Biofuel Infrastructure System, Efficiencies From Combined Heat and Power, Energy From Waste, and

more. Mike McAdams, Executive Director of the Advanced Biofuels Association will also be giving a presentation on Building Cooperation and Coalitions.
The conference boasts a wide-range of speakers including Professor Li, Tsinghua University; Christianne Egger, Upper Austrian Renewable Energy Agency; Hagan Rose, Eco Energy; Phillip Jennings, Repreve Renewables, and more.
Registration is now open. Click here to learn more about the conference and to register.