In 2010, the Sustainable Aviation Fuels Northwest (SAFN) was formed to determine how the Pacific Northwest could create a viable and robust biofuels industry with the goal of creating fuels for the aviation industry. Yesterday, a 10 month study conducted by Climate Solutions has determined that the Pacific Northwest has the diverse feedstock,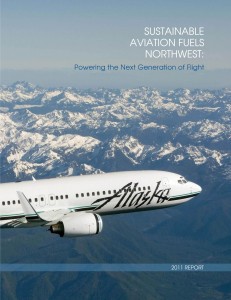 fuel-delivery infrastructure and political will needed to achieve their goals. However, the report stressed that creating an aviation biofuels industry will depend upon securing early government policy support to prioritize the aviation industry in U.S. biofuels development.
Partners in the program include Boeing, Alaska Airlines, Portland International Airport, Seattle-Tacoma International Airport, Spokane International Airport and Washington State University.
"It is critical to the future of aviation that we develop a sustainable supply of aviation biofuels," said Boeing Commercial Airplanes President and CEO Jim Albaugh during a press announcement. "Airlines are particularly vulnerable to oil price volatility, and the aviation community must address this issue to maintain economic growth and further mitigate the environmental impacts of our industry."
Dr. John Gardner, vice president for advancement and external affairs at Washington State University noted that there were three goals of the report. The study aimed to verify what the sources of biomass would be; what the supply chain would be and the steps needed to make it happen; and what policies might be barriers.
To create a market for aviation biofuels, the study outlines an integrated approach recommending the use of diverse feedstock and technology pathways, including oilseeds, forest residues, solid waste and algae. In addition, the study outlines the long-term importance of securing aviation biofuels as a top government priority and using the aviation industry to drive growth in domestic production.
Bill Ayer, Alaska Air Group Chairman, noted that consumers care about the issue of high fuel costs and sustainable future fuels and the airlines are taking the issue seriously.
"Alaska Airlines has made significant strides in reducing its environmental impact by enhancing the efficiency of its operations, including using satellite-based flying technology and investing in the most fuel-efficient airplanes in their class – but efficiency is only part of the answer," said Ayer. "In order for the aviation sector to continue its impressive record of fuel efficiency and emissions reduction while continuing to grow, it is important that a sustainable supply of aviation biofuels is developed."
The Pacific Northwest is a great place to drive the initiative to aviation biofuels – Bill Bryan, Port of Seattle commission president, said that their airport is the most sustainable in America and challenged airports across the country to outdo them.
"Airports have been leaders for years in finding ways to reduce their environmental footprint, from clean fuel sources for taxis and shuttles to electrification of ground equipment and pre-conditioned air, but in order to take the next big step we have to address emissions from aircraft. We can't get there without biofuels. It not only will help the sustainability of the Northwest but also the aviation industry," concluded Bryan.
Click here to download a copy of the full report.