Waste Management (WM) of Illinois has opened a new filling station for compressed natural gas (CNG) in Chicago. The refueling station is equipped with 40 filling bays to fuel WM's CNG vehicles. Today, the company operates six CNG-powered vehicles in the northern suburbs of Chicago and this summer will add 10 additional CNG vehicles to its fleet. The natural gas is conveyed to the facility by pipe from a NICOR gas main nearby and is the same gas used in homes for heating and cooking.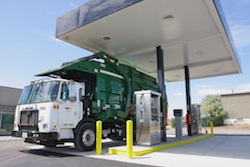 "We congratulate Waste Management for taking another major step in demonstrating its commitment to the environment by implementing natural gas-powered refuse haulers and a natural gas refueling station at its Wheeling facility," said Lisa Bonnett, Interim Director for the Illinois EPA who attended a kick-off event to open the station. "Clean-burning natural gas is a great way to significantly reduce emissions from heavy-duty trucks and help our state meet its air quality goals and further our energy independence."
According to Steve Batchelor, WM's area vice president for Illinois and Indiana, the company has embraced clean fuel technology across the country and has set a goal to lower the overall emissions by 15 percent while increasing fuel efficiency of its fleet by 15 percent each year through 2020. He also said the company is responding to requests from local government customers to use cleaner burning vehicles as they pursue sustainability initiatives.
"We have made the commitment to use more and more clean-burning CNG-powered collection trucks in the Chicago area. Our Wheeling facility will give us the direct capability to fuel our growing CNG fleet in the northern suburbs, lower our exhaust emissions, and help reduce our dependence on foreign oil. It's a good step for our operations and a positive environmental contribution to the communities we serve," concluded Batchelor.